Surf'n'Yoga
November 2, 2017
I have always wanted to see Bali. I have always wanted to learn how to surf. These are sentences that I heard myself saying out loud several times in my life. And then, fall 2017, I won (what a nice version of my name, actually) two weeks of free time in the work-lottery. Two weeks not to far ahead! I booked a flight to Denpasar – with crazy hours. Why would somebody fly 26 or 30 hours? Ok, but no more escape, no more excuses. I would go to Indonesia. Period. The time there finally inspired me to Godspeed.
Since I wanted to silence my mind I decided not to make it too complicated. So I booked two camps that should give me structure. Ignacio from Luex convinced me to go to Mondo in Canggu, Bali for week 1. For the second week I booked another flight to Bali's neighbouring island Lombok. I booked a village that first came up when you google "yoga" and "Lombok". Yes, I know, boring. But looking at the yoga schedule of Mana, I was excited. I would totally zoom out, pleasant anticipation started to fill me up. I could not wait to go!
First lesson: do not travel with munitions
My first memorable encounter took place at the security check at Frankfurt airport. "We have a positive", the woman spoke into her walkie-talkie. Positive? For what? She started a quiz. "What do you think is in your handbag?" My body temperature rose. Well, probably she did not mean my tiny and half empty sanitizer bottle. My face went red. Suddenly I knew. In my head I already heard handcuffs snapping around my wrists.
Me (stuttering): "Oh…oh. Yeah. You mean the bullet? At my bunch of keys? Haha. Yes, it is a souvenir from Texas. It is just…a key fob. It…it means a looooot to me."

She: "Well, yeah. But it is still a real bullet."

Me: "But I do not have a weapon".

She: "Yeah, but somebody behind you could have one." (That did not make sense to me because this somebody would have to cross security, but anyway.)

Me: "Ok."

She: "I will give it to Airport storage. You can get it back for 4,50 Euro when you come back in two weeks, ok? Please fill that out. And do NOT write 'bullet' on the envelope. Write 'key fob'."

Me (smiling): "Thank you!"
Denpasar. Almost 30 degrees celcius, finally! My face relaxes. And I find my driver. He must have been waiting quite a while, the luggage needed almost one hour to be unloaded from the airplane. I am the only passenger. Low season on Bali. "Hey, I am 'Jo-man'", my driver says. "Like 'Jo' and 'man'". Hilarious. We leave the small talk behind us after 15 minutes (wheather, Germany, tattoos) and talk about the sense of life. And about Hinduism. For him, it is completely puzzling that I travel alone, that I "am" alone. For him, family and kids are all that matters. And you cannot really escape your fate. Some are rich, some are poor. That's the way it is. You have to make peace with it. Amen, "Joman". My first evening at Mondo starts with the weekly Saturday night barbecue. So good! Chicken, fish, prawns, asia noodles, peanut gravy and, of course, rice! I meet some other travelers who all seem very chilled. I am hooked.
For the next two weeks, my mornings looked like this: Icy smoothie bowls with banana, dragonfruit, pineapple, papaya, coconut, nuts and granola. Yummy!
Wait! My mornings began with smoothie bowls? No! With Yoga! If anybody would have told me, that I get up every morning not later than 6.30 am on holiday – I would have called him or her nuts. But there is nothing better than stretching the body after a dreamless night. Lying under a bamboo tent, listening to the crickets and birds awakening, listening to pouring rain, water dropping from the roof right beside you while you are hanging headfirst in a front bend. Sometimes the dog of the village walks past, in an extremely slow motion, sometimes a cat walks past right under your body that is performing a down dog. Daniela is a very relaxed teacher and I still have one of her insights in my ear: "Even if you go to Yoga classes: The original sense of Yoga is, that one day, you are fit enough to train all on your own."
"OM" and "Namaste" ! Daniela did not only train Yogis but also a baby cat.
Why male Balinese names sound so cool
My first day at Canggu was a no-surfing Sunday – time for an excursion. I booked a driver to Bukit peninsula – the south shores on Bali. A friend of "Jo-man" picked me up. "Hi, my name is "Jo-man". What? Do they all have the same first names? He laughed. Later I understood, that it's spelled "Nyoman" and it is another word for "third child". First child means "Wayan". For boys, you add an "I" and for girls a "NI" to the name. In Bali, there are four different expressions and with the fifth child, it starts from the beginning again. Additional to this "standard" name, everybody also has an individual name. (I hope I understood this science of names correctly ;-)). Nyoman "Number 2" drove me to several beaches like Dreamland Beach and Padang Padang Beach. I also saw Tanah Lot Temple, where I spilled holy water over my face and got rice grains on my forehead. And we walked by a Hindu procession. Om!
What you see in one of the pictures is a swastika. It seems irritating to German tourists but it is in fact the symbol of fortune for Hindus and Buddhists. What a bitter cynicism that the National Socialists abused for their purposes.
My favorite spot on that day: the small but amazing Blue Point Beach which is only accessible through stairs – with a bar on top of the cliff.
Short before sunset we drive to Uluwatu Temple which is set on a cliff 70 meters above the sea. I need to wear a traditional sarong to go in. The view is as spectacular as the amounts of visitors.
The sun starts to fade and the visitors swarm to the open-air stage to see the "kecak" (fire dance). The actors gather in a circle and shout "kecak kecak cak-a-cak" over and over again – it sounds like music without instruments. Some of them wear fanciful makeup, masks and costumes. The story of the play resembles Romeo and Juliet.
Candle light dinner for one and innumerable crash landings
I finally conclude my day with a dinner at Jimbaran Beach. For my taste, this was almost too touristy today. But: I am also full of impressions – Bali gave me a warm welcome and a first taste of its treasures.
Monday! The surfing week starts. After breakfast there is time for: Bathing suit, sun screen and beach bag! Our teachers pack the beginners' boards and drive us to the crazy Bali traffic to Kuta Beach – one hour away. I am hypnotized by the lively streets, the relaxed Balinese drivers juggling heavy things on shaky scooters. Colorful shops fly past the car window. As do Absolut Vodka bottles. For days I think they sell self made alcohol until I finally figure out that I see "petrol stations". Only some of them have an "official" sign.
We arrive at Kuta Beach late morning, every morning. The day of surfing starts with putting loads of sunscreen on and waiting for the teachers who have breakfast. We gather under a sunshade, then some stretching, grabbing a leash and board and – there you go! The fifth day of surfing, after our patient teachers hat shouted "paddle", "faster", "slower", "stand up!!!!", "lower lower" a million times – the whole thing looked a little bit like surfing. Thank you!
I do not know how to catch any wave without a "wave pusher" and somebody choosing the wave for me, but hey! I surfed!
"Hospitalize" yourself can be fun – odyssey in the dark not so much
There are two excursions, I do not want to hold back from you. The first one was a trip to the local clinic. I do not know why, but I tend to see a doctor in almost every holiday. this was definitely one of the nicest visits. My left ear was clogged. The pregnant doc and one assistant treated me with a giant water injection and flushed my ear canal carefully and very precisely. The second time, they increased the pressure with the plastic gun, it broke and the liquid was spilled all over the room: the floor, the walls and – the assistant! I could not stand it. I broke out in hysterical laughter and apologized hastily. So embarrassing and so funny at the same time. After "ear and stomach muscle treatment", the adventurous evening wasn't over yet. My heart rate went up again when the official taxi driver – the address of Mondo in his hands – asked me at a random intersection something like: "Left or right?". Me: "Well, I do not know. You said you know where to go". But he did not speak any English and my Indonesian is far worse. We ended up in a rice field, the night watchman of Mondo had to pick us up and guide us back to the village. Résumé: No data flatrate, no GPS, a shouting driver, a desperate Yvonne – but we are all still alive. It works!
My half day trip to famous Ubud was less agitating, rather deflating. I saw some of the tourist spots in kind of fast forward mode.
Ubud rice terrace, Ubud coffee plantation (Luwak coffee – from beans digested by a sort of racoon called "civet cat" – very tasty, shockingly expensive and not uncontroversial), Ubud market, Ubud temple (next to Starbucks) and in the evening I ate (marvelously!) at organic Atman Café.
And suddenly, you are in the middle of a school field trip
At the beach, one day, I met the sweetest schoolgirls ever. They were sent out from their English teacher to practice in "real life". So they had a sheet of paper with around 20 questions they could ask tourists, like: "What is your favorite dish in Indonesia?" What is your favorite Indonesian resort in Germany?" (that question I did not really understand, but anyhow). And they took photos and videos. I tried to make the answers as easy as possible but had to smile every time they nodded well-behaved although it seemed they hadn't understood a word I said. Or was it my German accent? Once one group was finished there was already the next cluster of eager girls around me. You are the future.
Saturday is my last day of my surf camp on Bali and I am "upgraded" to a hard board. Feels like upgrading from scooter to motorbike. I swallow a lot of water but I also catch a handful of waves. And the most important thing: I close the chapter surfing with "will definitely try again" – which is something I find hard to achieve with anything new. Particularly, if you are not a good "master of disaster" – being permissive with frustration. The sky over Kuta is cloudy and warm rains drops down when I grab my backpack out of the surf van and say Goodbyes. "See, Bali is crying because of you leaving", says sweet Carola. But I am curious to move on.
For the first time on Bali, I manage to get an Uber driver. A woman from a surf school calls a taxi with her account for me. Uber is controversial because – as in other countries – the local taxi industry accuses the private drivers of taking away their jobs by beating down the prices. My Uber arrives after 10 minutes and we head off to the airport. As many men who see me traveling alone (but with a ring on my finger ;-)) the driver asks what on earth I am doing here ALONE and he asks for my number. The model of living as a single (more or less) voluntarily seems incomprehensible to Balinese men.
Lombok: With taxi madness to a sweat and safe Yogi harbor
The heavy rain delayed my flight to Lombok International. The moment I was landing there, it was already dark. The promised driver does not show up…at least, we do not find each other. My patience crumbles because I am surrounded by a dozen other drivers – some of them seem to wear a kind of uniform, others not. I decide that I do not want to spend more time at the airport, I am even too tired to bargain. Some minutes later I am driving through the darkness with a complete stranger. He seems to have good intentions but no clue where to go – again. After 20 minutes I feel we knocked over a dog. No emotion visible in my driver's face. Ok, maybe it wasn't a dog? The last 300 meters of the way were a challenge: a muddy road, no lights, straying dogs. A few meters in front of a bridge I finally released the nervous driver and paid the price we agreed on. Since his "uncle collects foreign currencies" I gave him my last 2 Euro coins and off I waded. I did not dare taking off my flip flops although the ground felt warm and comforting. I think, adults should play with mud sometimes.
Having this road in mind, I did – for some reason – not expect any comfort from Mana. OMG, what did I book? But it urned out, the road had been paved some days ago when the authorities decided to renew it. Heavy rain had not been part of their calculation. For the next 7 days, Mana was my refuge, my home. A place where I could let go with a lot of feelings. It was this synthesis of relaxed and reflected people, yoga, excellent food and: stillness.
What tourism does to "insider tips"
Lombok has the image of a developed but still more "unspoiled" neighbor of its big brother Bali. This is true in a way but it is also false. I discovered many original corners, shops, people but I also discovered waste in fields and rivers and construction sites for Western tourism that felt unnatural already. What will Lombok look like in some years? At least Kuta will probably change a lot. The secret places will be harder to find. Isn't it selfish and crazy how far we go, what efforts we take, to see these places? Sometimes I feel part of this conspiracy of tourists who pretend to be so individual but not realizing that they are part of a system that threatens and destroys – if we do not act thoughtfully and sustainably. I often ask myself: What am I doing here? Answer: "Enjoying myself and at least trying not to leave to much traces behind".
Lombok is in contrast to Bali and in alignment with almost all of the other 17.000 Indonesian islands a very muslim place. Sometimes, 4.30 am in the morning, I heard the muezzin from mosque that is not too far away from Mana. At the beach, I saw people interrupting what they did for one of the five prayers muslims are supposed to do per day. But, as on Bali, people are very open to tourists or Western girls wandering around alone. One day, I met professional soldiers from the Indonesien air force at Kuta Beach, who had just practiced paragliding from a nearby rock. They smoke, drink Coconut water and chill – I join them for a while.
Feeling like a teen and living on the edge
Although I feel like spending the whole day on my yoga mat, I decide to refresh my surfing "skills". I chose to hire a teacher from Kuta – he suggests to drive to one of the beaches in the west of Kuta. And, I am ashamed of that fact, but: I forgot his name. This is something that happens again and again. I forget names of the natives who introduce themselves to me. This is so impolite, almost racist. But I cannot help it. Why does my brain not pull itself together and remembers individuals? I shake hands and one second later I do not know anything anymore. I even forgot the name of the beach. Note to myself: I want to work on that. What I remember is: We had a fun day. I hop on the back of his scooter and we speed along the hilly streets – no helmets of course. Relax, Yvonne, let go. This 20-year old daredevil knows what he is doing. Is he? After ten minutes of trying not to squeeze his torso too much, I manage to enjoy myself. I feel the warm wind in my hair, I feel enlightened by the stunning views of bays, palm fields and little villages.
We surf for some hours, I accomplish to stand up on my board ate least three times (at a guess), we smoke clove cigarettes and talk."I think you have to stand up for your rights", the "surfing teacher without a name" tells me. "I have been in jail lately, the last seven months." Me: "Oh, why?". He: "A tourist did not want to pay me. So I hit him with a broken glass bottle." Me: "Oh." I assure him with a smile, that I am more than willing to pay. Time to go! With disheveled hair and hungry, I return to Mana. What an adventure! One day later, I fight with my swirled hair and regret that I decided not to comb it for several days. It is so messy that I have to cut out a knot. Well, that obviously comes with the decision to live an adventurous and minimalist life. The girl I borrow the scissors from is shocked. You really want to cut it? Yes. It is just hair, it grows again.
Fooling around in paradise
For Wednesday, I organized a day trip. Torben, Michelle, Holly and flee the "city" to go snorkeling. I agreed with a local tour guide on driving us to the shore, getting on a boat and make our way to some "Gilis" (which just means "island" in Indonesian). No, not THE "Gilis" on the northwestern side of Lombok (because they would have been too far), but I want to get a little bit more of that "Robinson Crusoe"- feeling while I am here. Well, a rudimental one because we won't be that alone, I can already reveal that. The tour starts with a weird misunderstanding. Our driver is wearing a police t-shirt. We are all a little bit bemused and consider it possible that we are fetched by the police. Well, I do. Naive girl. Ridiculous. It is Michelle who discovers the stitched off "batch" at the shoulder that says something like "American Police Force". So fortunately, we are not in the hands of local law enforcement. We listen to reggae inspired music all the way to the shore ("Boom shakalaka…") and board a wooden boat. At the first snorkeling stop I see some nice corals and a clown fish – but it does not compare to anything I have seen on the Maldives. What an ungrateful tourist! There is no right to fin paradise anywhere you go. And after all, what is that supposed to mean? When I was on the Maldives, I remember in what I mood I was there, and that was not as paradisiac as it is know. So, everything is relative. After a Nasi-Goreng-lunch we head to Gili Kedis – a pile of sand God has forgotten between Bali sea and the Indian Ocean. A dozen other tourists stroll around the beach and take pictures. While sitting on the swing, I meet an Indonesian woman – a clothing designer who is on holiday with her family. A native! Thankfully, this fact let's the situation not appear as absurd as it is.
Head over heals with Acro Yoga
To conclude my travel journal of Bali and Lombok, and to steer to one of my highlights, I have to tell you from my first acro yoga session. Athletic and featherweight Don seems to be the perfect teacher for that. Since elementary school, I have been a gymnastics idiot, so I am a little nervous. Acro yoga does not really have too much to do with regular yoga. It is not about working with yourself but relying on a partner. Have trust. We warm up with some stretching and build groups. Every posture is performed in pairs – one is the base, one is the flyer. It is all about technique, being precise and letting go. I feel more comfortable with being the base and do not dare to "fly". But in the end, Don offers to parter up with one after the other again – time for some photos.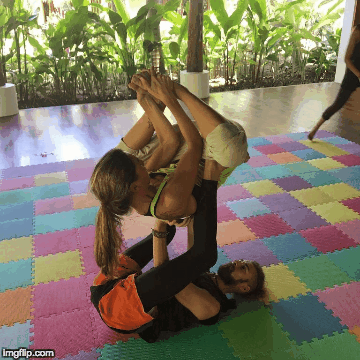 After the adrenaline rush I watch the others practicing headstand – another challenge I am not ready for (yet). But it looks so great. Next note to myself: Being back in Germany, I want to practice that. I am full of new plans already – so why not add the headstand? Puuh. After two weeks I am so enriched with good intentions, I almost do not know where to put all my energy. What do I really want? What is really important? What do I really need? Indonesia has triggered a lot, all the while I have to canalize and knot all the loose ends together.
Intentions…with one I start right after landing in Frankfurt. I asked my way through to the airport storage room. I rummage around for my pickup ticket. "I want to fetch something that was taken from me two weeks ago", I say to the man behind the counter. He turns around and draws out the white envelope that says "key fob". Although I more and more tell myself: Do not cling your heart to material things, I feel a childlike joy. I have my bullet back!
Das könnte dich auch interessieren
Oktober 23, 2017
September 23, 2018